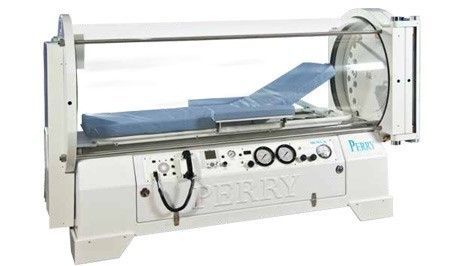 Hyperbaric Medicine
Oxygen sustains us with each breath we take. But did you know it can help your body heal and repair itself? The CHI Health Advanced Wound Care Team offers hyperbaric oxygen therapy treatment for patients suffering from a range of wounds due to diabetes, late effects of radiation therapy, diabetic and other selective complex chronic wounds and more. With state-of-the-art chambers, our trained wound care specialists have another evidence-base therapy to manage and heal chronic wounds.
What is Hyperbaric Medicine Treatment?
Hyperbaric oxygen therapy is a medical treatment in which the patient breathes 100% oxygen while inside a treatment chamber. The air we breathe on a regular basis is approximately only 21% oxygen. Research has shown that by increasing the oxygen content level in blood and compromised tissue, a hyperbaric oxygen therapy chamber provides the ideal environment to promote the growth of new blood vessels and skin – a cornerstone of wound healing. Most patients receive 30 treatments that are administered once per day, Monday through Friday.
Once I'm a candidate for Hyperbaric Medicine what are the next steps?
Before you begin hyperbaric medicine therapy you will have some tests performed, such as an EKG, X-ray and blood work. After you receive medical clearance from our physicians, therapy can begin.
What should I expect in the chamber?
You will recline on a table inside a large clear acrylic tube-like chamber. Air pressure is raised approximately two or three times the normal air pressure which creates a temporary feeling of fullness in your ears, similar to what you might feel in an airplane or at a high elevation. You are continuously monitored and can communicate with the staff during your entire treatment time. You will also be able to watch TV. The chamber does not move but you may hear the sound of air moving.
What happens during the treatment?
Throughout the course of hyperbaric treatment, you will be periodically assessed by an attending physician to measure your progress. You may also have photos taken of your wound and be assessed by the technician who will assist in monitoring your treatment progress. If your condition requires wound care, this will be done before or following your hyperbaric treatment.
What do I need to avoid while undergoing hyperbaric treatment?
Smoking: Nicotine counteracts the attempts to deliver oxygen to the blood and reduces blood supply to fingers and toes. It irritates mucus membranes and may make it difficult to equalize pressure in your ears and sinuses resulting in damage to your middle or inner ear. Additionally, smoking will reduce the effectiveness of hyperbaric treatment. Patients should refrain from smoking during their entire treatment period.
Alcohol and recreational drug use: Alcohol and recreational drugs can have or cause unknown effects when used in conjunction with hyperbaric treatment.
Medications: Please discuss all your medications with the doctor. If you change your medications during the course of your treatment please notify the hyperbaric technician.
Possible side effects: All medical treatments and medications have potential side effects or risks and restrictions associated with them. Risks associated with hyperbaric oxygen therapy, may include stuffy ears or slight change in vision. However, side effects are usually rare and temporary.
Insurance: Most insurance plans cover hyperbaric oxygen therapy with a standard HBO diagnosis. Your plan may require precertification that may take a few weeks to process. We will take the necessary steps to process your insurance.